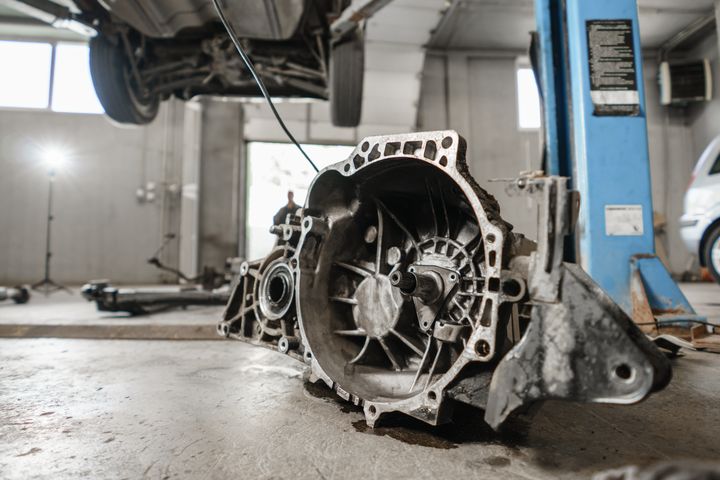 How does a transmission work?
The power generated by your vehicle's engine first flows through the transmission before it reaches your wheels. The transmission controls the torque available to the drive wheels for different driving conditions and serves as a torque converter. This is why you might shift gears when you are driving uphill; you will need more torque in order for your vehicle to go up the hill efficiently. From there, the differential gives that power to your vehicle's wheels on the same axle at the appropriate ratio. Four-wheel drive cars also have a transfer case, which transfers power to two differentials on different axles rather than to two wheels on the same axle.
Transmissions are one of the most important parts of your vehicle. Whether your vehicle has an automatic transmission or a manual transmission, this component is what makes your car move forward. The transmission works to send the power from the internal combustion engine to the wheels. There are two different types of transmissions that work differently:
Automatic transmission
Automatic transmission shifts gears by itself based on throttle response, vehicle load weight, and speed.
CVTs, or continuously variable transmission, are newer transmissions used in smaller cars and hybrid vehicles. Instead of using gears, it uses a pulley system to give power to the wheels.
Manual transmission
Manual transmission requires the driver to use the clutch and gear shift to change the gears manually, depending on the speed and acceleration of the vehicle.
How do I know if my vehicle needs a transmission replacement?
Whether there are symptoms in your Acura, Audi, BMW, or Buick, there are universal signs to look out for that indicate that your vehicle needs a transmission rebuild, transmission repair or replacement, or if you need a remanufactured or rebuilt transmission. Here are some common transmission problems:
Your check engine light turns on: This is the most common and most prominent sign that something is wrong with your transmission. If your check engine light turns on, be sure to bring it to Rod's Japanese Auto Care in Whatcom so we can run a diagnosis on your vehicle to pinpoint the issue. A lit check engine light could mean a multitude of things for your vehicle.

Your transmission is making noises: These sounds may be subtle, but if you hear banging, grinding or rumbling coming from your vehicle when you change gears, or a high-pitched whistling sound coming from your engine compartment, this means your transmission urgently needs to be checked. Rod's Japanese Auto Care is your local transmission repair shop. We can remove the transmission and properly assess it to determine the issue.

Hard shifting, sluggish transmission, or gears slipping: If you have a manual transmission, you may notice that it becomes harder to change gears. If your vehicle has an automatic transmission, you may notice a loud thunk when you put your car into drive or your vehicle is slow to accelerate. If you are in Bellingham, WA, Deming,Wa, Everson, WA, Ferndale, WA, or Lynden, WA, you can bring your vehicle to Rod's Japanese Auto Care to be assessed.

Your vehicle's fluid leaks: If you notice any stains or puddles underneath your car, be sure to bring your vehicle to Rod's Japanese Auto Care as soon as possible. We can troubleshoot your transmission and see where the leak is coming from; it is hard to tell which part of your vehicle is leaking because fluid can travel across your vehicle's parts and the leak could appear to be coming from a different place than where it is actually coming from.

Your transmission fluid has a burnt smell or appears brown and/or cloudy: Healthy transmission fluid is syrupy and is a transparent red, so if the fluid appears any different, it's time to bring your vehicle to an auto repair shop.
What is a transmission fluid flush?
Over time, your vehicle's transmission fluid collects foreign particles that can cause your transmission to generate more heat and friction. To avoid this problem, you can get your transmission flushed by removing old transmission fluid, sludge and grime and replace it with fresh transmission fluid.
Your Reliable Shop for Transmission Replacement
If you are having an issue with your transmission, Rod's Japanese Auto Care in Bellingham is your place to go. Founded in 2002, our team of Quality technicians have decades of combined experience and are experts in all things auto repair. We specialize in transmission repair, auto repair as well as hybrid service.
Reasons You Should Do Business With Us:
Transparency
Honesty
Integrity
We are Experts
Years of Experience
If you are in the 98226 area or nearby, don't hesitate to schedule an appointment with Rod's Japanese Auto Care, either online or via phone at 360-398-2944. Rod's Japanese Auto Care - Serving Bellingham and beyond since 2002, Rod's Japanese Auto Care provides you with honest, transparent, and reliable repairs with exceptional customer service..